If you're a hidden object fan sans the adventure part, then it's probably a good bet that you're going to enjoy Vacation Adventures: Park Ranger, a game that rewards HOG purists with its simple no nonsense gameplay.
Vacation Adventures: Park Ranger features a simple plot... you're a new park ranger working the summer at a national park and therefore it's your job to find items and clean up any litter that might have been left by guests.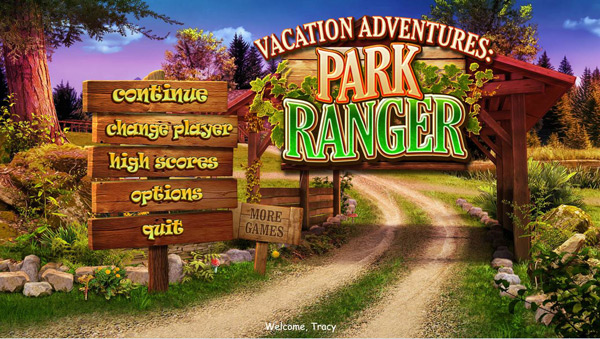 Ok, I buy that... except for one thing... isn't this called Vacation Adventures? Because... that sounds like Job Adventures... last time I checked being a park ranger is not an exciting adventure. My husband's grandfather was one for oh... a good 20 years or so in Vermont, and I know it was a lot of hard work. But, I guess Job Adventures didn't have quite the same ring as Vacation Adventures so I'll live with that.
The graphics were simple, nothing out of this world, jaw dropping, tear to your eye kind of artwork... but it worked. It was very old school style illustrations.... the kind you would expect in a children's book... I kept thinking of Where's Waldo when I was playing and half expected to see he's red and white outfit sticking out somewhere.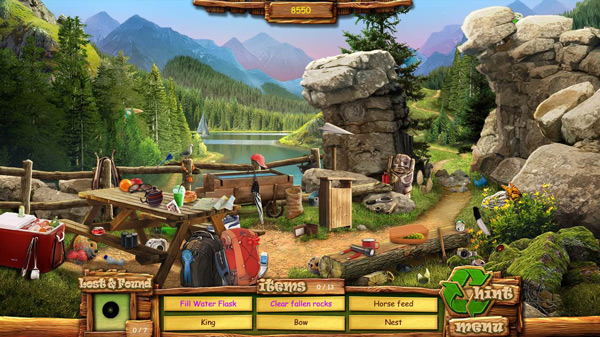 Gameplay was as expected, simple with no frills or fancy animations to get in the way of finding objects. Just pretty much point and click. I did find the hidden object scenes to be a bit challenging, mainly because some of the objects in the list didn't look the way I expected them to. For example, I expect a flask to look like something it'd put liquor in... not a water bottle. So little things like that started to get frustrating.
The puzzles and mini-games were by far the most enjoyable experience for me in Vacation Adventures: Park Ranger. Although, I felt as though I was a kid again and a part of me really want to go find a coloring book and a monster thing of crayons to sit down and while away the time for a few hours. Or better yet, find a jigsaw puzzle and sit down and relax with one of those. I haven't done one in years.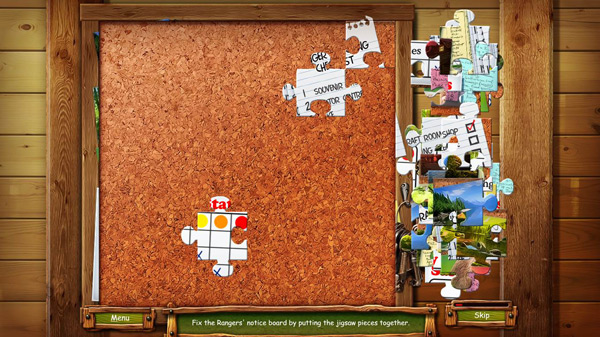 I guess what I'm saying is the games were pretty basic... actual jigsaw puzzles and matching games that would probably be really exciting for dorks like me or kids... yes, kids would be able to play Vacation Adventures: Park Ranger no problem.
Although... the music and sounds that are loaded into Vacation Adventures: Park Ranger just might have you wishing you could scrape your ears off instead. At first I thought, ok this is nice... relaxing guitar strumming, a nice little poppy hand drum, some clapping... wait... clapping? Then it started to morph into some kind of weird combination of Spanish Flemenco and country that no one should ever have to endure.
OK, it wasn't that bad... but it wasn't good. It didn't fit with the theme at all. I expected to hear more natural sounds since we were in a park... but the clapping just wouldn't stop. Well, it did when I muted it... and I must have only been playing for 10 minutes before I couldn't take it any longer.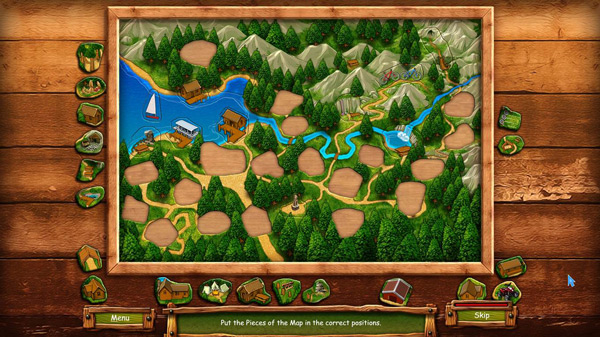 Overall, while I don't really have the patience for a true hidden object game, Vacation Adventures: Park Ranger definitely measured up in terms of overall performance. Get rid of the sounds and you can get a few relaxing hours of hunt and search time out of Vacation Adventures: Park Ranger to be sure.