Allow our Mystery Trackers: Four Aces Walkthrough to accompany you through the town of Brightfield as you attempt to solve a mystery that has led to the evacuation of the entire town. Now, with the town emptied of humans, strange creatures have taken over, and it's up to you to solve the mystery of what's gone so wrong. Our custom screenshots, detailed instructions, and useful tips will help as you investigate the mysterious organization known as the Four Aces, who may be behind the fall of the town. Use your own investigative skills, and our bag of tricks, to get to the bottom of things.
The team behind Mystery Trackers has done it again and delivered a visually stunning and completely entertaining game that is packed full of fun puzzles, enjoyable hidden object scenes, and interesting places to discover. The cut-scenes are to die for, and the side-plots were delightful. All-in-all, Mystery Trackers: Four Aces really seems to be a game that has something for everyone.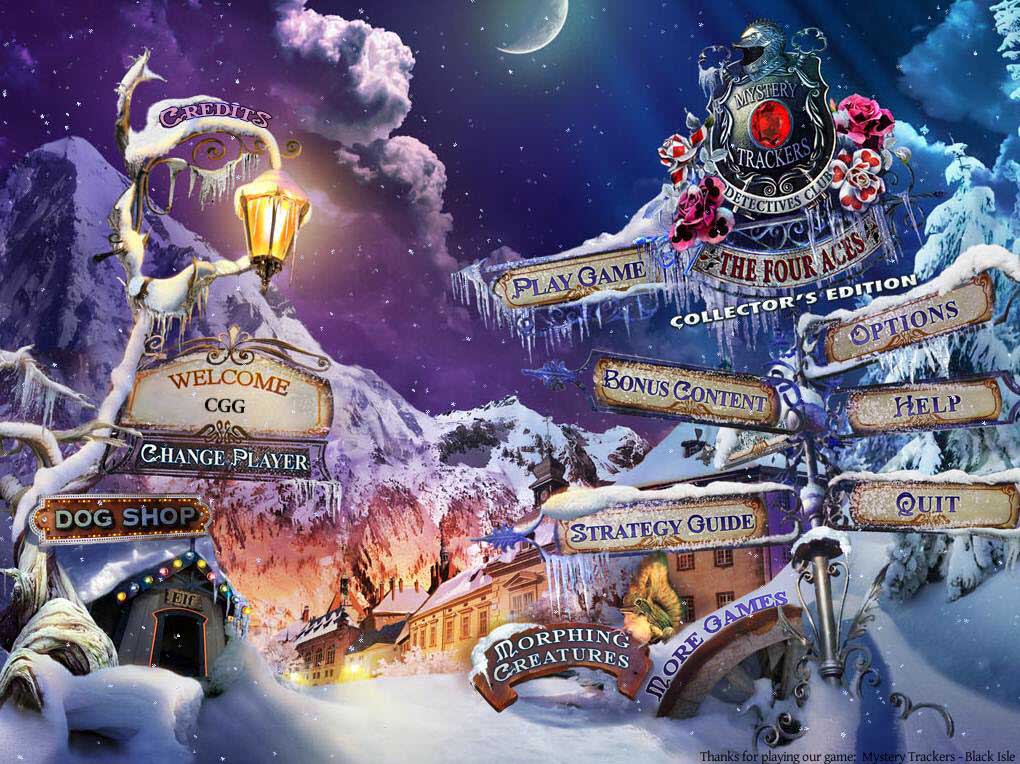 One of my big pet peeves in any hidden object game is when I end up having to do the same hidden object area again and again. I get frustrated when I run by a cluttered table and see it glittering when I just did that area five minutes ago. It gets to the point where you don't even have to look at the list of objects anymore; you just click the things you didn't collect last time.
But in Mystery Trackers: Four Aces there was none of that; not a single repeat hidden object area. And while this did shift game play from endless rounds of hidden objects to investigation and interactions, I found I really enjoyed the switch. I'll take investigation over mindless fussing around in a pile of junk any day.
I also loved the puzzles, which ranged from "That was super easy!" to "Hmm, let's think about this a while." I like mixing easy ones in there because it makes me feel more capable, and that confidence helps me through the more challenging ones.
You know what else helps get through those difficult puzzles? Our Mystery Trackers: Four Aces Walkthrough.
We've already suffered through getting lost, not knowing how to solve the puzzles, and being confused as to what our next step should be. This is a beautiful game that should be enjoyed, so if you find yourself getting perplexed or frustrated (or if, like me, you want to avoid those feelings all together) please turn to our helpful Mystery Trackers: Four Aces Walkthrough. After all, what's a great detective without a sidekick?