Thank you for joining us at the Fierce Tales: The Dog's Heart Walkthrough created by the staff at CGG. Here, you'll find everything you need to play this pawsitivily perfect hidden object adventure game. This walkthrough contains everything from custom screenshots with all the items and locations marked for you, as well as detailed instructions on how to beat each section of the game. We hope you enjoy this exciting Hidden Object Adventure game!

Opening Story:

In Fierce Tales: The Dog's Heart, a strange pack of dogs have threatened your snowy mountain town, and now they have taken your beloved dog named Pippa. As the town's dog expert, it's up to you to save Pippa and the town from the destructive force of these creatures. Discover some really gorgeous hidden object scenes and get ready to tackle challenging puzzles and mini games in Fierce Tales: The Dog's Heart!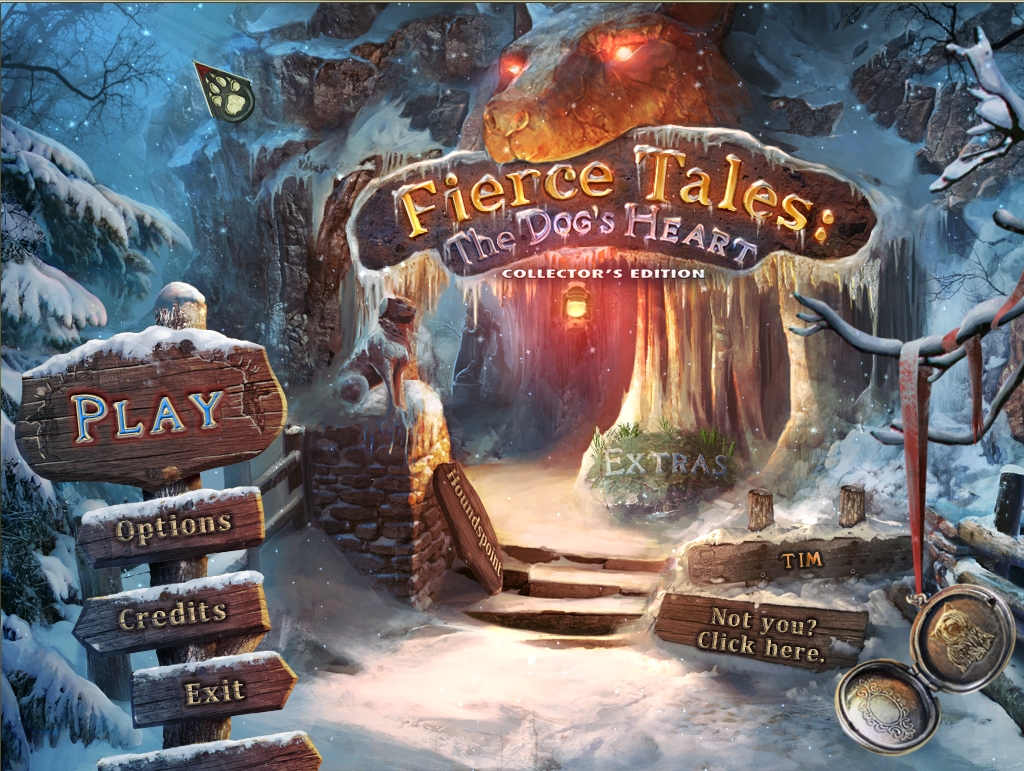 Gameplay is available in casual, advanced and hardcore levels. In Casual mode, sparkles identify all noteworthy locations. Your hint and skip buttons will recharge very quickly. Advanced mode has no sparkles and hint takes longer to recharge. Hardcore has no sparkles, no hints, and no skips. You may change your difficulty level within the game by choosing the menu button on the bottom left and selecting options.

Access the hint button at the bottom right of the screen. If the present location contains no incomplete actions, the hint button will direct you to your next activity.

Normally, your cursor will look like a dog's paw print. However, it changes to a magnifying glass for areas you can examine more closely; a grabbing hand for items you can pick up and store in inventory; a pointing finger for items that require an additional action; and a small red arrow for spots where you can move to the next scene.

For the most part, the hidden object areas are straightforward and do not vary from play to play. However, items listed in blue do require an extra action. Throughout this walkthrough hidden object areas are referred to as HOA.

Your case files, consisting of a journal and an interactive, are contained in the bottom left of the screen. The journal tracks the story for you and you may refer to it for codes and clues from previous scenes. The map indicates where you have visited. Your current location will be shown in black. If you move your cursor over some locations, you will see the corresponding screenshot in the top left corner of the map. Use the map to move swiftly from location to location.

Please note: Fierce Tales: The Dog's Heart is divided into different sections, and each section will have their own map. It's important to note that you can't use the map to travel in between sections.