Thanks for joining us at the Mystery Trackers Four Aces Walkthrough. You will find everything you need to play this exciting next installment to the Mystery Trackers franchise. We've made sure to include plenty of screenshots clearly marking all key objects and detailed instructions to help you stop this devious conspiracy going on in Brightfield. We hope you enjoy our Mystery Trackers Four Aces Walkthrough.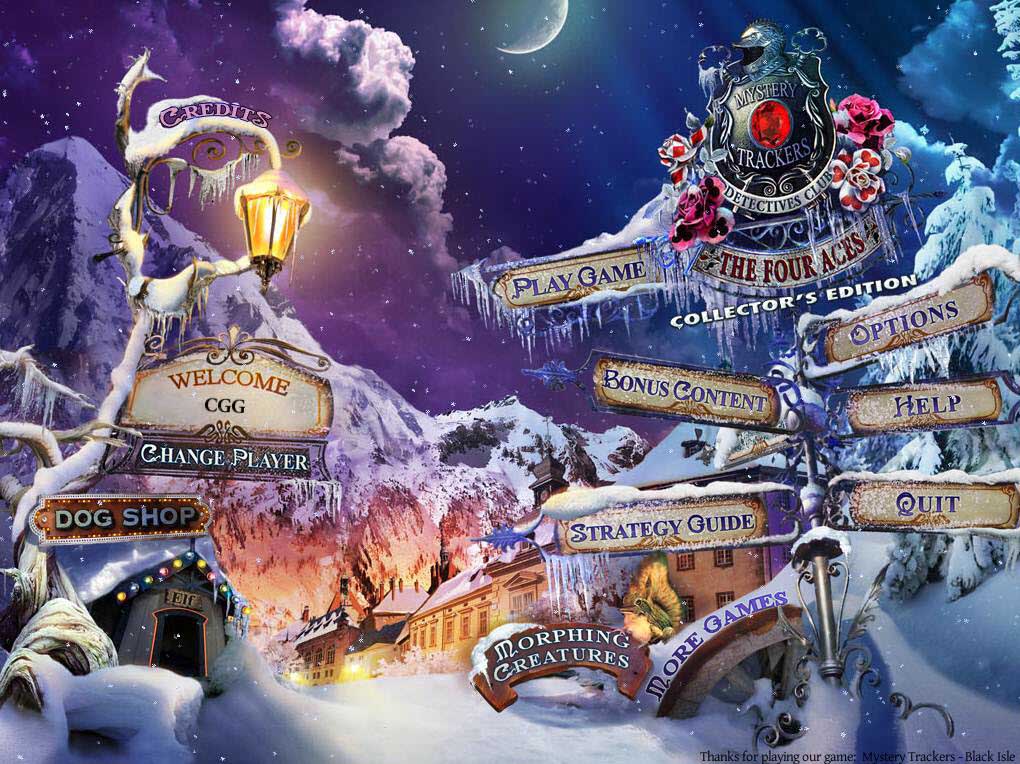 Opening Story:
In Mystery Trackers Four Aces, what started out as a quiet night at home with the dog turned into a full fledged Mystery Tracker Case. Jumping on the first plane to Brightfield, the detective is searching for clues as to what's going on in this quiet town. The town has been evacuated because of several animal attacks by creatures that aren't your normal run of the mill animals. It doesn't take long to discover something fishy is going on in Brightfield and it's all leading you to an organization called the Four Aces. But just who is behind this mysterious organization and what exactly are they up to? Find out with the help from our Mystery Trackers Four Aces Walkthrough!
General Tips for Playing Mystery Trackers Four Aces
Map - Your map will show you were you are and if there's any active areas for you to investigate depending on what level of difficulty you are playing on. You can also come back here to view any of the videos you've previously watched.
Magnifying Glass Icon - When your cursor turns into a magnifying glass, it means you can interact or zoom in on an area to get a closer look.
Hand Cursor - When your cursor turns into a hand, it means you can pick up an item and add it to your inventory or interact with it in some way.
Hints - Mr. Toad is available throughout the game in the lower right corner to give you help when you need it. Click here if you're stuck. Just remember, these take time to charge before you can use it again.
Inventory - Your inventory can be found at the bottom of the screen. Just hover your mouse over that area to make it appear.
Hidden Object Scenes - Hidden Object Areas will sparkle. Objects in yellow are in plain sight. Objects in green are hidden and require and extra step for you to find it.
Puzzles - During puzzles and mini-games, you have three buttons that can help you. The info button provides more information about what you need to do. The reset button will start the puzzle over again, and the skip button will let you skip the puzzle once it's fully charged.
Difficulty Settings - There are four difficulty settings in this game, casual, advanced, hardcore, and detective. You can change the level of difficulty during game play by clicking on the menu button and changing the level at the bottom of the pop up screen.
Navigation Arrow - These will appear when you are able to move to another screen. Click on it to move.
Mouth- When you are able to talk to characters during the game, your cursor will turn into a mouth. Click on people to initiate conversation.
Chips - During gameplay, you'll collect chips. You can spend these in the dog shop for items for your dog Elf to interact with.
And that's the basics for playing Mystery Trackers Four Aces! Good luck! And we hope you enjoy our Mystery Trackers Four Aces Walkthrough! Good luck!