I was so glad to find Mystery Trackers: Raincliff's Phantoms, another edition of the Mystery Trackers series by Elephant games. The Mystery Trackers series have all been good and traditionally Elephant Games is one of my favorite developers. As a rule, they tend to produce top-notch games with superior graphics and intriguing storylines.
Mystery Trackers: Raincliff's Phantoms is no exception, and I had a blast playing – it was another instance where an hour of play flew by in seemingly minutes. I also enjoyed looking at the snow-laden landscape (from my 80 degree porch), which probably looks somewhat like the rest of the US right now.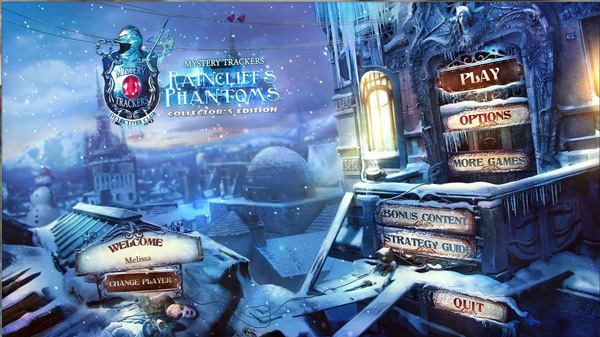 Reporter Emilie White heads to the town of Raincliff – a supposedly abandoned town that has been experiencing some strange events. Emilie is sent to cover what should be a nice fluff piece about rumored invisible people. Upon arrival Emilie realizes the rumors might have an element of truth – and then she disappears! Mystery Trackers send you out to Raincliff to investigate, and bring Emilie home.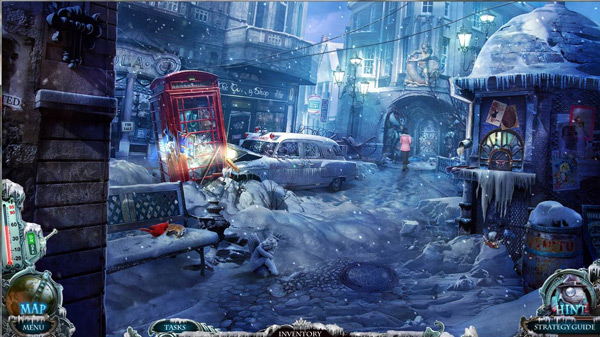 Mystery Trackers: Raincliff's Phantoms is a well done CE – crisp, clear graphics, bonus content, collectibles, achievements, interactive map, integrated strategy guide, and the adorable tiny dog helper, Elf. I'm a big fan of the cute little animal helpers and Elf is among my favorite. He looks like a miniature Pinscher! He's always helpful to get into tiny spots but watch that he doesn't disappear like Emilie!
As a fun twist, you can play in Frost Mode, which requires you to continually find morphing objects to keep your temperature up. It's an optional mode of play compatible with any level of difficulty and will award a bonus if the game is completed in Frost Mode. At times, you will have to stop progress on other goals to find something to warm you up – I found it a unique aspect that added a layer of difficulty.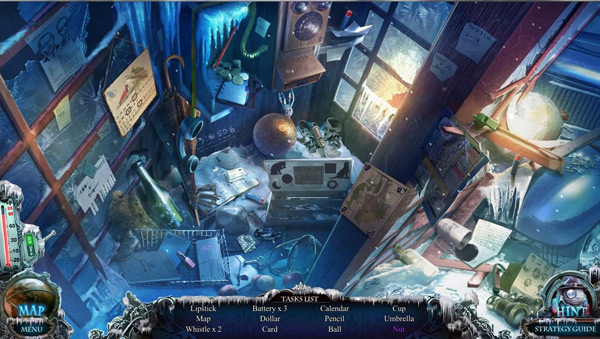 The 15 hidden object scenes in Mystery Trackers: Raincliff's Phantoms fell a little short of what I've seen in other hidden object games lately – there are no repeats, but there also isn't much variety, just straight forward list searches with a few items that require interaction. While they aren't as interesting as others I've seen lately, they are easily completed and weren't too challenging.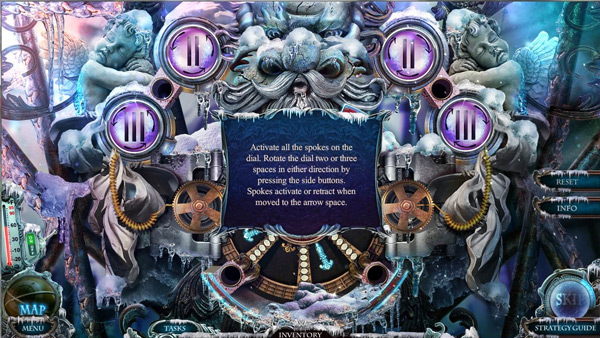 Mystery Trackers: Raincliff's Phantoms contains nearly twice as many mini-games as HOS, but they also fell into the less-than-challenging category. They were the same types of games usually seen – puzzles with rotating and sliding pieces, completing gears, untangling lines, etc. I thought the ratio of HOS to mini-games was perfect, but if you are looking for more of a hidden object adventure game, you could be disappointed in the number of scenes in the game.
Mystery Trackers: Raincliff's Phantoms definitely lived up to my expectations and Elephant Games continues to be a favorite developer for me. I'm looking forward to their next installment!